Partridge India publishes Ranjana Kamo's Out Of Their Shadows
Partridge India is proud to announce Out of Their Shadows, a novel of love, life, and destiny and also the second novel published by Ranjana Kamo this year.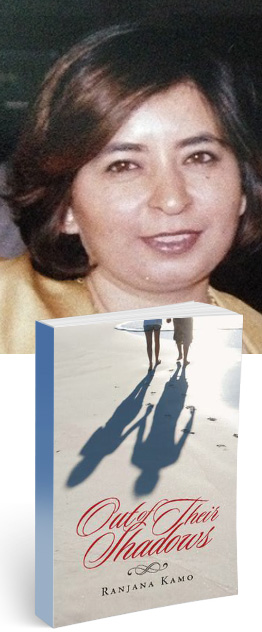 Ranjana Kamo is a master of time management. Throughout her childhood and university career, Ranjana composed poems, even while pursuing her degree in chartered accountancy and her MBA. Now as a banker, she is in one of the most stressful and time-consuming professions around, but she somehow has managed to publish two novels in less than twelve months!
The first, God Walks My Dreams, was published near the beginning of 2014 and focuses on the life journey of the main character, Suraj. 'One can easily relate to the struggle of Suraj and the turning points in his life,' says Ranjana. 'The romantic souls will find a subtle and dreamy touch of romance in this story. It is inspiring to read how Suraj takes life head-on and how nothing can stop him.'
The book affirms Ranjana's strong faith in God, weaved into an engrossing storyline that has captivated her readers. Thus, in addition to being hard to put down, the book is one of inspiration. 'I hope that this book can bring positive changes in the lives of the readers and also in their outlooks towards life,' she says.
Ranjana's second endeavour this year, Out of Their Shadows, also focuses on existential themes, combining the concepts of self-discovery and the mission to find one's purpose in life. The novel centres on two characters, Nita and Aman, and in Ranjana's words, 'takes them through the undulating path of their life together through failures, successes, love and much more, to redesign their destiny.'
As for what inspires Ranjana to put words on paper, she identifies God as first and foremost, and she is also enriched by her perceptions. The latter runs the full spectrum, whether it is her observations while driving through her city or—in a similar vein to classic author Marcel Proust—just having a cup of tea. 'I had never thought that I would write a novel at some point in my life,' she says. 'God, I believe, did have a plan and design to make me write a novel and probably many more in times to come.' We certainly look forward to them!
By clicking "Request My Free Consultation", you are providing your electronic signature, voluntarily authorizing Partridge India and its affiliates to contact you using a manual or automated telephone dialing system and send you advertisement or telemarketing messages by email or text/SMS/MMS message to the address and phone number you have provided above. You are not required to agree to this in order to buy products or services from Partridge India. You certify that you are over the age of eighteen (18). You'll get up to ten (10) messages per month. Standard message and data rates may apply. Click here to view our privacy policy.