Give readers easy access to your book.
Promote your book with a campaign that caters to your readers' digital lifestyle. With the help of BookStub™ cards, readers can easily download your book on their tablets and smartphones and enjoy it anytime and anywhere. But what exactly are BookStub™ cards and how can you incorporate them in your marketing campaign? Check out the infographic or read the transcript below it.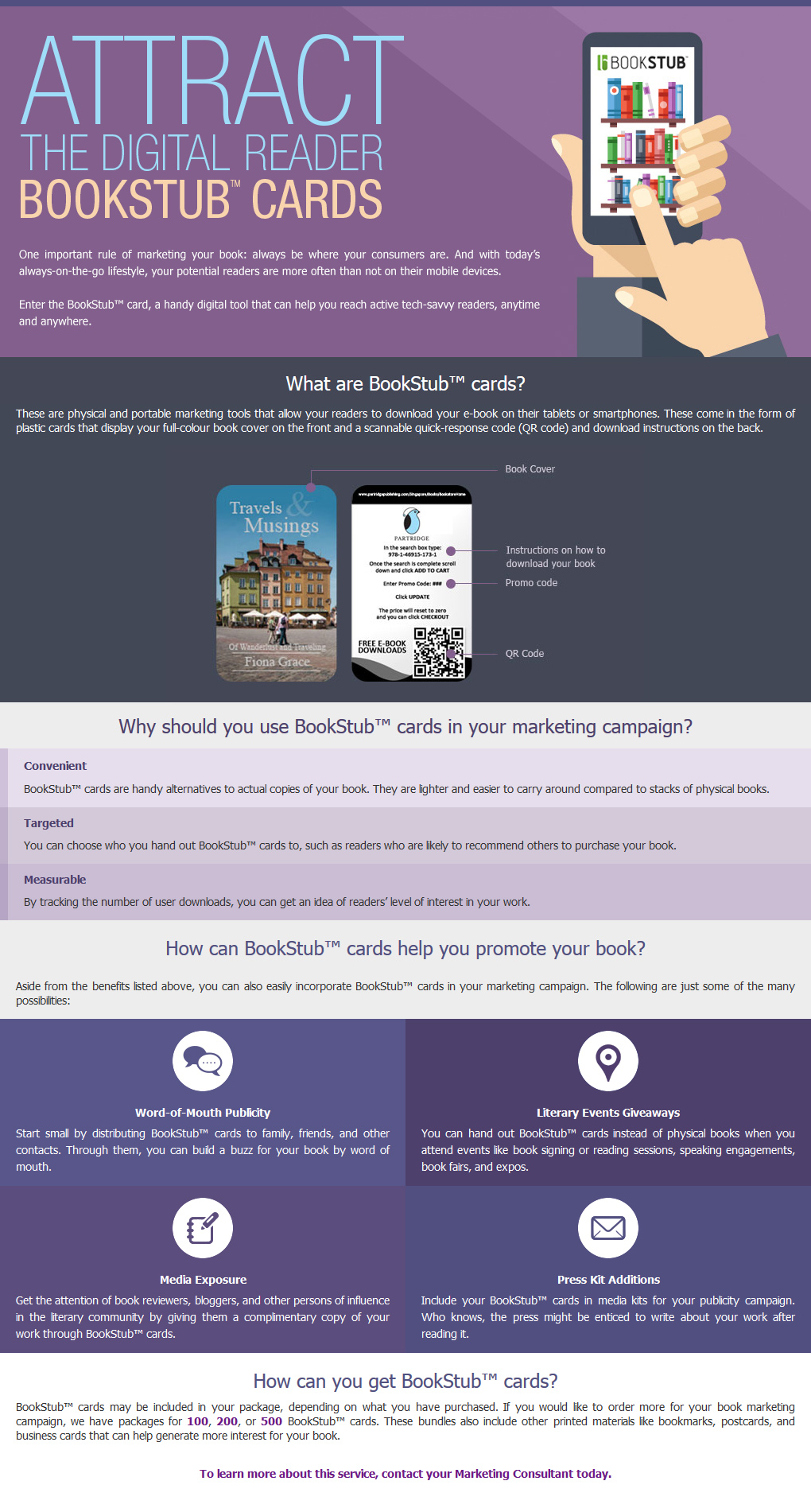 Attract the Digital Reader with BookStub™ Cards
One important rule of marketing your book: always be where your consumers are. And with today's always-on-the-go lifestyle, your potential readers are more often than not on their mobile devices.
Enter the BookStub™ card, a handy digital tool that can help you reach active tech-savvy readers, anytime and anywhere.
What are BookStub™ cards?
These are physical and portable marketing tools that allow your readers to download your e-book on their tablets or smartphones. These come in the form of plastic cards that display your full-colour book cover on the front and a scannable quick-response code (QR code) and download instructions on the back.
Why should you use BookStub™ cards in your marketing campaign?
Convenient

BookStub™ cards are handy alternatives to actual copies of your book. They are lighter and easier to carry around compared to stacks of physical books.

Targeted

You can choose who you hand out BookStub™ cards to, such as readers who are likely to recommend others to purchase your book.

Measurable

By tracking the number of user downloads, you can get an idea of readers' level of interest in your work.
How can BookStub™ cards help you promote your book?
Aside from the benefits listed above, you can also easily incorporate BookStub™ cards in your marketing campaign. The following are just some of the many possibilities:
Word-of-Mouth Publicity

Start small by distributing BookStub™ cards to family, friends, and other contacts. Through them, you can build a buzz for your book by word of mouth.

Literary Events Giveaways

You can hand out BookStub™ cards instead of physical books when you attend events like book signing or reading sessions, speaking engagements, book fairs, and expos.

Media Exposure

Get the attention of book reviewers, bloggers, and other persons of influence in the literary community by giving them a free copy of your work through BookStub™ cards.

Press Kit Additions

Include your BookStub™ cards in media kits for your publicity campaign. Who knows, the press might be enticed to write about your work after reading it.
How can you get BookStub™ cards?
BookStub™ cards may be included in your package, depending on what you have purchased. If you would like to order more for your book marketing campaign, we have packages for 100, 200, or 500 BookStub™ cards. These bundles also include other printed materials like bookmarks, postcards, and business cards that can help generate more interest for your book.
Contact your Marketing Consultant Today
To speak with a consultant, call us on +65 3165 7531 (Singapore) or +60 3 3099 4412 (Malaysia) to sign up or to learn more about this service.